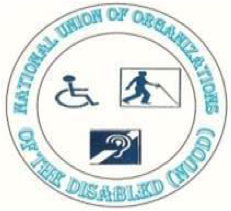 25/03/2019
The National Union of Organisations of the Disabled in collaboration with AIFO-Liberia, with technical support from the Alliance on Disability will host a one-day workshop amongst stakeholders and persons with disabilities on Wednesday, 27th March, 2019 at the Corina Hotel in Monrovia.
The workshop will hear from leading experts on the United Nations Convention on the Rights of Persons with Disabilities which represents a major development in the field of human rights for persons with disabilities.
The workshop will focus on key elements of the convention and will seek to shift the attention of the Liberian political class and other key stakeholders on the significance of the human rights-based model for disability. The workshop will also share examples of best practices in the application of the Convention at home and abroad. Practical examples from Disabled People Organisations, Government Line ministries and CSOs on policy implementation, monitoring and evaluation of the convention will also be high on the panel discussion.
Disability rights authority Rachel Kachaje will give her perspective on trending issues related to disabilities and will put forth practical solutions to ensure the inclusion of persons with disabilities in all spheres of the Liberian society. Rachel is a disability activist with over 25 years of experience in advocating for equal opportunities and equal rights for persons with disabilities in Malawi and around the globe. Rachel is the current chair of Disabled People International and the Secretary of the African Disability Forum. Rachel was also Minister for Disability and Elderly Affairs in Malawi.
The workshop is part of the Disability and Start-up project (DASU), an initiative funded by the Italian Agency for Development Cooperation.
-30-
Media Contact: Luther Sangar Mendin, Communications Officer-DASU Project
Mobile: +231775269126
E-mail: aifoliberia@gmail.com
website: www.aifoliberia.org
Facebook: https://www.facebook.com/aifoliberia
https://aifoliberia.org/wp-content/uploads/2018/09/nuod.png
211
231
Luther Mendin
https://aifoliberia.org/wp-content/uploads/2018/09/AIFO-LOGO.png
Luther Mendin
2019-03-25 17:30:02
2019-03-25 17:33:47
PRESS RELEASE: PERSONS WITH DISABILITIES AND STAKEHOLDERS TO DIALOGUE ON INCLUSIVE DEVELOPMENT