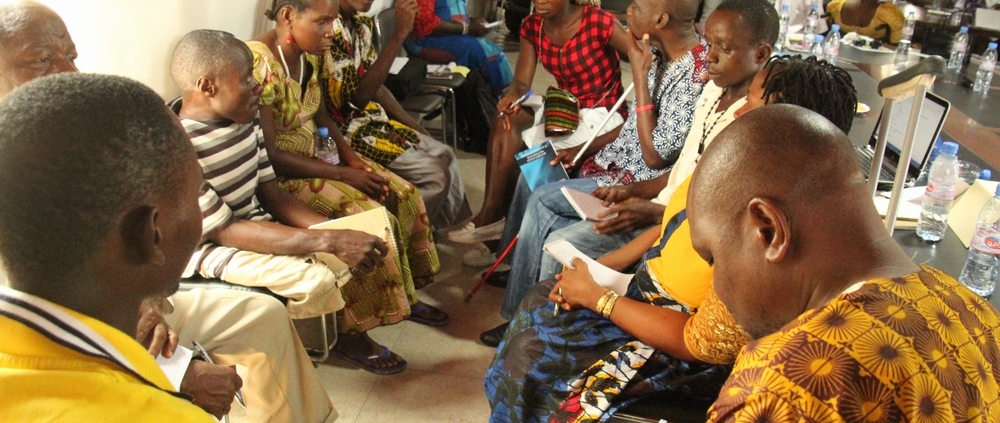 Monrovia, 03 August 2018: Senior leaders from Nine Disabled People Organizations
(DPOs) and the National Union of Organizations of the Disabled (NUOD) gathered at a
workshop from July 23-25 at the Exceeding Hotel in Monrovia to discuss key issues
faced by Disabled People Organizations and the identification of different priorities and needs for income generation activities as part of the ongoing project titled: "Disability and Startup-Civil Society as Protagonist of Inclusive Development"(DASU) funded by the Italian Agency for Development Cooperation – AICS (AID 11516).
The Nine DPOs and NUOD leaders were from Bong, Nimba, Grand Gedeh and
Monrovia. The DPOs included SAPRO, Group of 77, Christian Association of the Blind
and the Liberia National Association of the Blind in Bong County. Nimba Disabled
Community and Group of 77 in Nimba County, Grand Geeh Disabled Community in Grand Gedeh County and Cultivation for Users Hope and the Liberia National Association of the Deaf in Monrovia respectively.
 A total of 42 DPOs leaders attended the workshop. The workshop was facilitated by Dr. Sunil Deepak. Dr. Deepak studied medicine in India. His other studies were in leprosy control, epidemiology and a master degree in disability studies. He has been involved in community-based rehabilitation (CBR) programmes working with AIFO in different parts of the world since 1988, especially in areas of training and research. During the workshop, heads of disabled people organizations and NUOD identified several gaps and opportunities aimed at improving their individual organizations. The primary objective of the workshop was to gather participants experiences as far as their institutional and managerial capacities are concerned and to plan the training and other activities of the project – "Disability and Start Up. Civil society as protagonist of inclusive development in Liberia. Topics covered during the three days' workshop were; Project Funded by the Italian Agency for Development Cooperation advocacy, fund raising, project planning & implementation, introduction to economic independence and income generation, business plan, monitoring and reporting of projects among others. In breakout discussions, participants identified the challenges and potential solutions for strengthening their various organisations and promoting employment of people with Disabilities. The key challenges identified during the workshop included difficulties in accessing education, vocational training and livelihood opportunities. AIFO-Liberia intends to organize two additional training courses to address these issues. In closing remarks, the president of NUOD, Mrs. Naomi Harris urged participants to take seriously the training provided to them and put into practice what they have learned so that other DPOs members can follow. She also extended heartfelt thanks to AIFO for the partnership and the Italian Agency for Development Cooperation for the funding. Mrs. Harris believes that the partnership with AIFO is geared towards working for a common purpose and to achieve shared results all in the interest of persons with disabilities. She is hopeful for the successful outcome of the DASU project.
For media information, please contact:
Luther S. Mendin, Communications Officer, AIFO-Liberia
Mobile: +231770182913 Email: luthermendin@gmail.com
More information on the DASU Project can be found at: aifoliberia.org/projects
https://aifoliberia.org/wp-content/uploads/2018/11/Photo-2_-Activity-R1.1-2018_July_24_Liberia_Monrovia_ExceedingHotel_DPOs-Diagnostic-Study_Workshop-Participants-1.jpg
667
1000
contact@bunzwebdesign.com
https://aifoliberia.org/wp-content/uploads/2018/09/AIFO-LOGO.png
contact@bunzwebdesign.com
2018-08-22 19:54:31
2018-11-26 11:19:31
Workshop on the Institutional and Management Capacities of 9 Disabled People