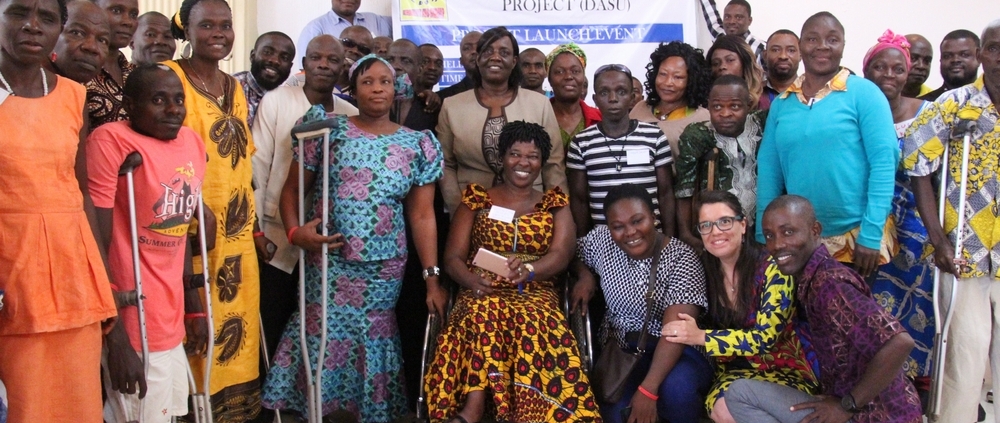 AIFO-Liberia Head Office
19 th Street, Beachside Sinkor, Monrovia
Press Statement (FOR IMMEDIATE RELEASE)
Monrovia, July 24, 2018
The Italian Association Friends of Raoul Follereau, AIFO and partners will on Wednesday, July 25 launch a three-year (2018-2021) project titled: "Disability and Startup-Civil Society as Protagonist of Inclusive Development in Liberia". The project is being led by AIFO and implemented along with the National Union of Organizations of the Disabled and the National Commission on Disabilities, in Liberia and the University of Florence and RIDS in Italy. The overall goal of the project is to strengthen the Liberian Civil Society with focus on Disabled People Organizations to contribute to sustainable and inclusive growth processes in Liberia. The project which is funded by the Italian Agency for Development Cooperation with a One million and four hundred thousand-dollar grant is meant to enhance the capacity of Disabled People Organizations (DPOs) in economic sustainability, strategic planning, human rights, resource mobilization, and leadership skills, as well as foster inclusion of
persons with disabilities in national development agenda. The project will address organizational capacity building of disabled member organizations and administrative functions of the umbrella organization of people with disabilities, the National Union of Organizations of the Disabled, NUOD, in order to enhance its capacity to lead and coordinate a country-wide citizens' actions for the implementation of the United Nations Convention on the Rights of Persons with Disabilities (UNCRPD), and other pro-disability policies and programmes in Liberia.
The project will be implemented in three counties of Liberia namely Bong, Nimba and Grand Gedeh and in the city of Monrovia. The project will work with county and national AIFO-Liberia.
AIFO Liberia – 19th Street (Ocean side), Sinkor, Monrovia
Phone: +231778507196; Email: aifoliberia@gmail.com; Website: www.aifo.it
Accreditation#: 0094-Ministry of Planning and Economic Affairs, Republic of Liberia
level Disabled People Organizations, local and national stakeholders as a way of enabling
them advocate for the human rights of Persons with Disabilities and their effective
inclusion and participation in society at all levels. The project will target at least 120
leaders and the creation of 30 startups from nine national and district level Disabled
People Organizations to enhance their capacity in financial management, leadership,
organizational development, advocacy, and resource mobilization as well as develop
specific strategies/plans, tools and standards to support organizational effectiveness.
The vice president of the republic of Liberia has nominated the Executive Director of
G77 to present a special statement marking the official project launch. Other key
stakeholders including the Disability Alliance, UNDP, World Health Organization and
the Mental Health Division of the Ministry of Health among others are also expected to
grace the occasion.
The Italian Association Friends of Raoul Follereau (AIFO) was founded in 1961 and the
main headquarters is in Bologna, Italy. AIFO is a Non-Governmental European
Organization working in the field of International Health Co-operation and is an official
partner of World Health Organization. AIFO is present in 12 Countries in Africa, Asia
and South America, with 37 projects of Health Cooperation. Since 2010, AIFO-Liberia
has been supporting projects for and with people with disabilities in Liberia. AIFOLiberia
envisions to offer opportunities for people affected by leprosy, persons with
disabilities, women/children and members from vulnerable and marginalized
communities to lead a better quality of life. We focus on healthcare, education and
economic empowerment to provide a better quality of life and creating large scale
positive change.
We are extremely grateful to the Italian Agency for Development Cooperation for
funding the project.
-30-
For queries
Contact AIFO Liberia Communications Officer, Luther S. Mendin
(luthermendin@gmail.com; 0770182913, 0770182913)
https://aifoliberia.org/wp-content/uploads/2018/11/Photo-1_DASU-Project-Launch-Participants-Group-Photo_Held-at-Corina-Hotel-in-Monrovia__2018_July_25.jpg
667
1000
contact@bunzwebdesign.com
https://aifoliberia.org/wp-content/uploads/2018/09/AIFO-LOGO.png
contact@bunzwebdesign.com
2018-08-22 19:57:16
2018-11-26 11:16:48
DISABILITY & STARTUP PROJECT LAUNCH PRESS RELEASE