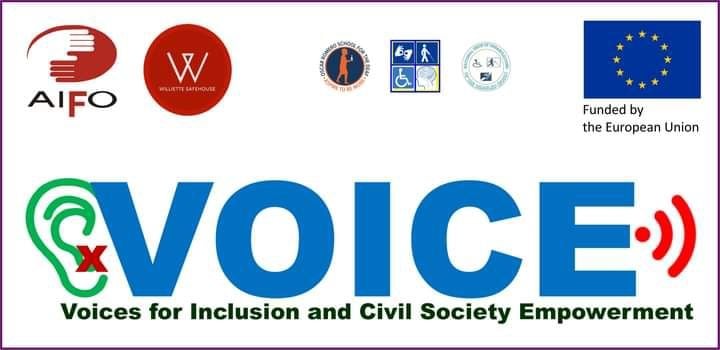 15 Oct 2021 – Monrovia: The Head of European Union delegation to Liberia, Ambassador Laurent Delahousse will on 20 October 2021 launch a Six Hundred Eleven Thousand, one hundred twelve -Euros grant "Voices for Inclusion and Civil Society Empowerment (VOICE)-Disabled People Organisations stepping up for people with Disabilities rights in Liberia". This grant, which is being provided by the European Union, is meant to enhance the capacity of Disabled People Organisations (DPOs) in economic sustainability, human rights, resource mobilisation, and leadership skills, as well as foster inclusion of deaf and hard of hearing persons in national development agenda.
The VOICE Project is being implemented by AIFO, which bears the overall responsibility of ensuring the effective implementation of this project, along with Williette Safehouse (WS), Oscar Romero School for the Deaf (ORS), National Union of Organisations of the Disabled (NUOD) and the National Commission on Disabilities (NCD).
The overall goal of the project is to promote all deaf and hard of hearing persons in Liberia, in order to enjoy their rights to have equal access to work and employment. The project will also strengthen the Liberian Civil Society with focus on Disabled People Organisations to enhance their capacity and autonomy to engage for the socio-economic empowerment of the deaf and hard of hearing persons thus contributing to sustainable and inclusive growth processes in Liberia.
The project will address organisational capacity building of disabled member organisations and administrative functions of the umbrella organisation of people with disabilities, the National Union of Organizations of the Disabled, NUOD, in order to enhance its capacity to lead and coordinate a country-wide citizens' actions for the implementation of the United Nations Convention on the Rights of Persons with Disabilities (UNCRPD), and other pro-disability policies and programmes in Liberia.
The project is being implemented in three of the fifteen counties in Liberia namely: Bomi, Nimba and Montserrado. The project works mainly with local and national stakeholders as a way of enabling them to advocate for the human rights of Persons with Disabilities and their effective inclusion and participation in society at all levels.
The project targets 90 deaf and hard of hearing persons disaggregated across Disabled People Organisations and the National Union of Organisations of Persons with Disabilities. The beneficiaries will also benefit from life skills and vocational training programmes to enhance their employability on the job market.
The EU is expected to make a major statement reemphasising their continuous commitment towards Liberia's developmental drive and human rights of marginalised groups including people living with disabilities…. https://lnkd.in/gZ2RVeQ5
https://aifoliberia.org/wp-content/uploads/2021/10/AIFO-VOICE.jpg
350
720
Luther Mendin
https://aifoliberia.org/wp-content/uploads/2018/09/AIFO-LOGO.png
Luther Mendin
2021-10-19 09:58:26
2021-10-19 09:58:26
VOICES FOR INCLUSION AND CIVIL SOCIETY EMPOWERMENT PROJECT LAUNCH PRESS RELEASE