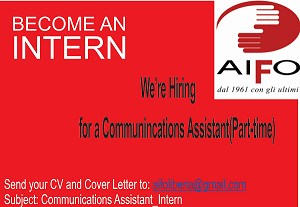 Job Vacancy No.6
Description:  Communications Assistant (1 Position)
Job Title: Internship: Part time Communications AssistantQualified persons with disabilities and women are strongly encouraged to apply
Organization profile and background: AIFO- Liberia
The "Association Friends of Raoul Follereau" (AIFO) is an Italian non-for-profit organisation who has been present in Liberia since 1997. AIFO-Liberia envisions to offer opportunities for people affected by leprosy, persons with disabilities, women /children and members from vulnerable and marginalized communities to lead a better quality of life. AIFO-Liberia focusses on healthcare, and economic empowerment to provide a better quality of life and creating large scale positive change. AIFO Liberia is accredited by the Ministry of Finance and Development Planning, Republic of Liberia; accreditation number 0094.
Disability and Start-up Project
In May 2018 started the project "Disability and Start up. Civil society as protagonist of inclusive development in Liberia" or DASU for short funded by AICS (the Italian Agency for Development Cooperation). The project aims at reinforcing the role of Organisations of People with Disabilities (DPOs) in the socio-economic development processes and in the fulfilment of their rights in Monrovia and in three counties of Bong, Nimba and Grand Gedeh, in Liberia. It is implemented in partnership with the National Commission on Disabilities (NCD) and the National Union of Organisations of the Disabled, NUOD and two Italian partners, DISEI and RIDS.
Location: Based in Monrovia. There may be  some travels to project sites in Bong, Nimba and Gedeh counties in Liberia .
Length of the role: Part time. 12 months, renewable until April 2021, with a probation period of three months
About the role: The Communications Assistant will support the communications officer in developing and rolling out various communication contents and activities for AIFO- Liberia. He/she will work closely with the Communications Officer in implementing the communications strategies for all AIFO Liberia projects. 
Reports to: Communications Officer
Main Responsibilities:
The Assistant Communications Officer will support the Communications Officer in performing the following roles:
• Write success stories of AIFO-Liberia projects for sharing with external audiences and communication departments at AIFO HQ in Bologna, Italy
• Support in the development of high-quality contents for AIFO-Liberia rojects social media pages (Facebook, website, YouTube) in line with AIFO Liberia communications strategy
• Support in the development of factsheets for projects
• Capture high quality images (photos and videos) of AIFO Liberia projects
• Draft press releases/articles for publication in local newspapers
• Support in the organization of launch events for new projects/activities
• Provide technical support to DASU radio program
• Assist in writing minutes of weekly management and senior management team meetings
• Keep AIFO website up to date
• Provide monthly data from Facebook and website viewers
• Other duties as assigned by supervisor
Experience:
Familiarity of national and county-level media
Good photography and graphic design skills
Experience in recording and producing quality videos 
Education:
High School Education and a Crash Course Certificate in communications or related fields: Journalism, Sociology, English, Humanity, etc.  Bachelor's Degree in Communications is an added advantage
Languages: Excellent command of spoken and written standard and Liberian English
Computer skills:
Good knowledge of Microsoft Office (Word, PowerPoint, Publisher, Excel)
Experience in using social media and internet
Experience in photography
Good working knowledge of modern office equipment (printers, scanners, camera etc.) Knowledge in using graphics design software such as Corel Draw is an added advantage
Personal Skills:
Proactive, creative and collaborative team member
Intercultural competence
Gender and disability sensitive
Willing to learn and share knowledge 
Professional and commitment to project demands 
Applications for this position should be sent to:
Please send soft copies of a motivation letter and CV and any additional documents including past publications (videos / photos/ stories) to the following: Subject:  Internship : Communications Assistant Email: aifoliberia@gmail.com
https://aifoliberia.org/wp-content/uploads/2019/11/Comm-Intern-4_Revised.png
207
300
Luther Mendin
https://aifoliberia.org/wp-content/uploads/2018/09/AIFO-LOGO.png
Luther Mendin
2019-11-14 11:47:28
2019-11-14 11:47:31
Internship: Communications Assistant_Partime